You expect personalized advice and best-in-class service. Our discretionary portfolio management offers you access to a wide range of investment opportunities that can help you achieve your goals. Your personal needs, financial objectives and risk tolerance will be used to set the baseline for creating your portfolio. Your private banker will see to it that your strategy is implemented according to your specifications, and will report back to you regularly on progress. Our investment specialists will select and actively manage your assets, giving you the benefits of a proven, structured investment process, as well as all the expertise of a personal financial consultant with the size and clout of an international financial services provider.
You are at the centre of what we do 
Purpose
Why are you investing? Having clear reasons or purposes for investing is critical to investing successfully and we will help you navigate through your short and long term investment objectives
Investing Attitude
Your sensitivity towards risk and your return expectations help us establish the right level of risk exposure
Approach
You will discuss the accessibility of your assets and determine your desired level of involvement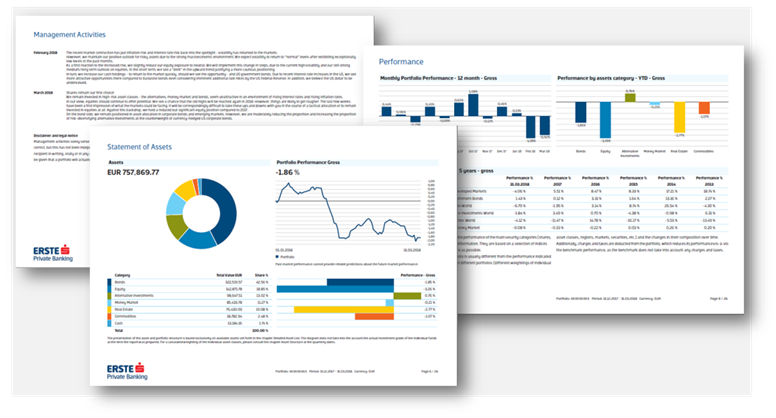 Assets
Portfolio performance
Detailed portfolio holdings
Securities account transactions
Tax information
Management activities
Comments on the market situation
Risks to keep in mind:
Asset prices can fluctuate significantly depending on the strategy
Investments in foreign currencies can be affected by changes in exchange rates
Capital losses are possible
Please note: In addition to the opportunities described, an investment in securities also involves risks. Past performance does not enable any reliable conclusions to be drawn about future performance.
Other products and services